Keep your cryptos safe with the Ledger hard wallet!
Keep your cryptos safe with the Ledger hard wallet!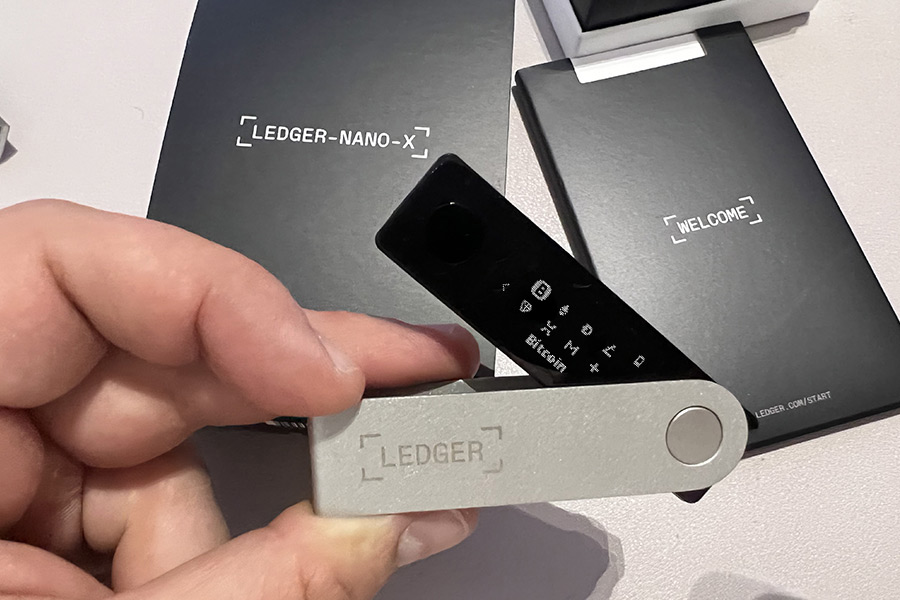 According to a recent study, 8% of the French population owned cryptocurrency in January 2022, which is more than the number of people owning stocks (6.7%).
It is an investment method that is attracting more and more people, especially the younger generations, while stock purchases suffer from an old-fashioned image or seem reserved for a small circle of professionals.
Are wallets a safe and sufficient way to keep your crypto-assets?
Your cryptocurrencies are stored in an electronic Wallet (which is not ideal for their security). It can come in the form of a mobile application or a web browser extension, one of the best known is MetaMask.
The operation is simple, to sign a Smart Contract or carry out a crypto-asset transaction, the wallet must have two keys: one private and one public.
The public key is the address of your Wallet (in the form 0x000000…)
The private key is "hidden" in your browser app/extension.
But if a malicious person has access to this private key, he can sign all your Wallet transactions for you. Many hackers and scammers make it their specialty!
Cryptocurrency, NFTs, land Metaverse; a simple careless mistake such as clicking on a malicious link received by email, from an address that you thought you recognized, can cost you the entire content of your Wallet!
A Wallet being anonymous, it is impossible to have any legal or legal recourse when you are the victim of an attack on your MetaMask for example!
How to reliably protect your crypto-assets?
Ledger, a French company markets "Hard Wallet" or "crypto wallet hardware", wallets in the form of small devices resembling USB keys to host your Wallet to provide even more security to your transactions.
Indeed, each transaction carried out on the Ledger must be validated manually by its owner using a code to be entered on the device. Thus, only the owner of the Ledger can sign a transaction.
This digital safe allows you to keep your crypto-assets reliably and securely!
Ledger: state-of-the-art security for your crypto-assets
Unboxing and setting up a Ledger Nano X
Ledger currently markets 2 models: the Ledger Nano S Plus (80€) and the Ledger Nano X (150€) the latter benefits from a Bluetooth connection to pair it with the Ledger Live app on your smartphone.
These are the most popular physical Wallets with more than 3 million copies sold worldwide. They allow you to manage, grow and trade over 1,800 types of crypto-assets.
The Ledger Live app is available on Windows/MacOS as well as iOS/iPadOS and Android. Once installed, you can pair it with your Ledger key, by cable or Bluetooth.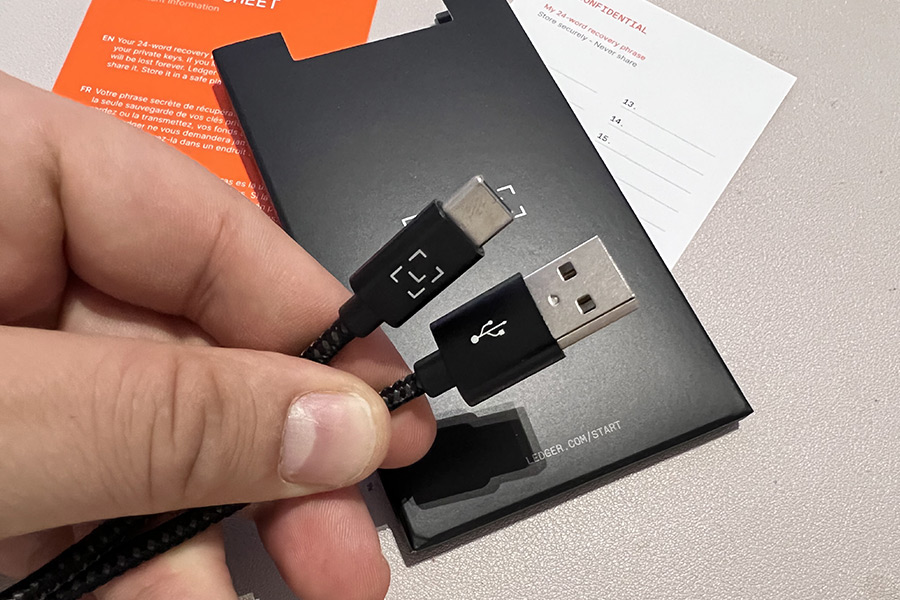 Connect your Ledger via a USB-C / USB-A cable or via Bluetooth on the Nano X
You will then need to assign it a PIN and you will get your recovery phrase. It is a sequence of 24 words that will allow you to reset your Wallet's PIN code if you forget it. Take note of this sentence on the sheet provided to you in the box and keep it safe.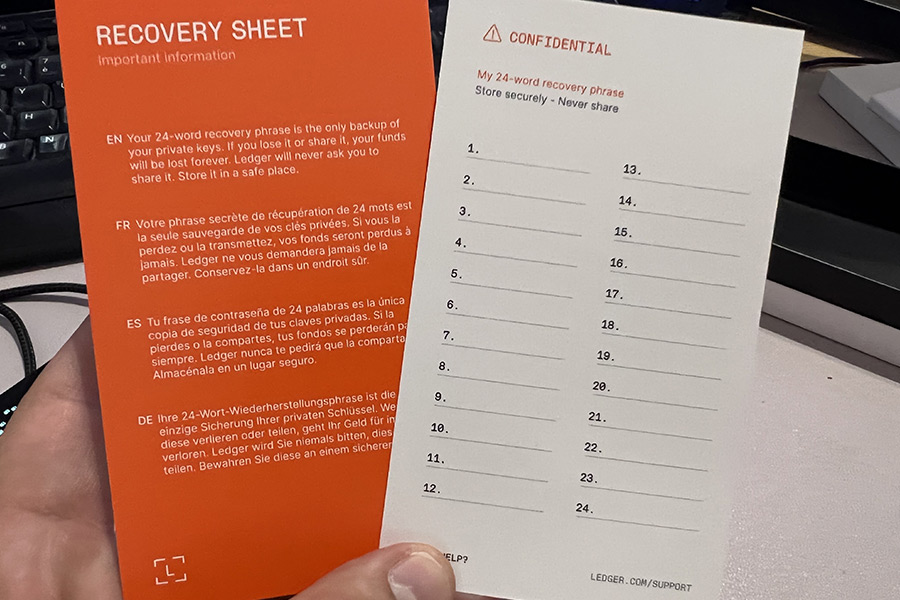 Be careful to write down the 24 words of your secret phrase!
Once the key is configured, you will be able to install applications on it corresponding to the assets you wish to manage via the Manager tab of Ledger Live.
Using the Ledger Live application to manage your crypto-assets on your Ledger
To then be able to manipulate cryptocurrency, you must select one in Accounts and the address of your Ledger will then be displayed, which you can enter on the exchange platforms to supply it.